_________________________________

_________________________________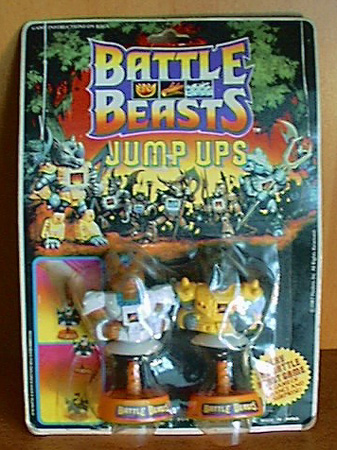 The Jump Up Battle Beasts have the basic use of the suction cup, spring and the base. They were put out in 1986 by Imperial who is noted for making all those rubber dinosaurs you see at the fleamarkets and other "original" and "knock-off" lines at you dollar store. They have done a excellent job at the six different "Jump Up" figures they produced. Standing four inches tall, these critters would "Jump Up" after you push them down and firmly had the suction cup laced over the spring and (which is attached to the base).
Though only six figures were made, they had a random symbol assortment. So you are a completist, you must find the Fox and all the others in Fire, Wood & Water. Also to my amazement a 2-Pack was produced (pictured above).
Imperial also created some silly games to be played with the Jump Up figures, rules are below.



Collection Of: Alex Bickmore / Anonymous
Paragraph: Alex Bickmore
Photos: Alex Bickmore
---
Fox
---


_________________________________

_________________________________