STA: Mega Man 2" Bandai Non-Poseable Acton Figures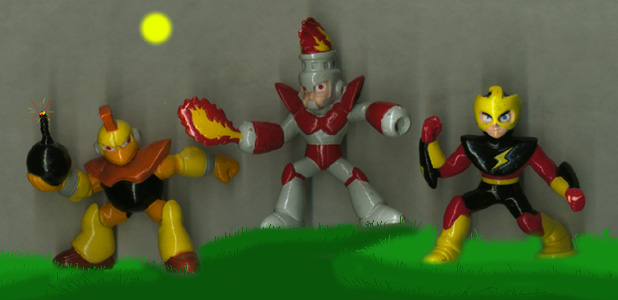 Bandai's 2" Mega Man Action Figures
Bandai also produced in conjunction with the 5" inch series, a 2" inch series. These figures were non-poseable but very colorful and detailed. Like the 5", the figures accurately resemble the characters from the video games as well as the animated series.
The 2" series were available at the same time as the 5" series. The 2" figures came 2 on a blister card. Only 12 dfferent figures were produced. A 2nd series was going to be produced, but was cancelled.
The figures came specifically per a pack. Each figure was partnered with another figure. The sets are supposedlly as follows,

Mega Man & Ice Man
Mega Man & Fire Man
Roll & Cut Man
Proto Man & Bomb Man
Rush & Elec Man
Mega Man & Dr. Wily
Dr. Light & Guts Man. Click here to see a MOSC sample!
---
Price Guide & ListingFor The 2" MEGA MAN Non-Poseable Action Figures
| | |
| --- | --- |
| Mega Man | Rush |
| Roll | Dr. Light |
| Dr. Wiley | Proto Man |
| Eleckman | Guts Man |
| Fire Man | Ice Man |
| Bombman | Cutman |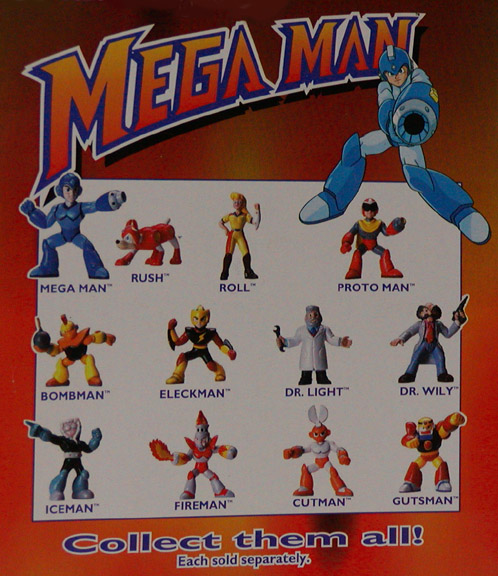 Back to Mega Man Toy Page


Back to Main page


______~~~~~~~___/==\__

__/==\_____---------__________


1997__E-Mail-Me__lrdsith@interaccess.com