Bandai's 5" Mega Man Action Figures MOC Gallery
Here is a gallery picturing all the 5" Mega Man figures Mint On Card (MOC) that were produced by Ban Dai. The packaging and style of these figures are unique. These pictures give you a idea of just how great these pieces are.
Pictured here are the US versions that were released in US toy stores a few years ago. There are Italian versions of these carded figures that look almost the same but there is a small sticker on the blister backer. Plus the hanger hook at the top of the card is sometimes different on the Italian versions. There was a warehouse find of these Italian versions back in mid-1998. Thus making the Italian versions much more common than their US counterparts.
Series 1
Mega Man


Rush


Proto Man
Image Not Available Yet (7/1/00)


Bombman


Cutman
(Missing Small Cutter)
Image Not Available Yet (7/1/00)


Gutsman

Series 2
Drillman


Snakeman
Image Not Available Yet (7/1/00)


Eleckman


Brightman
Image Not Available Yet (7/1/00)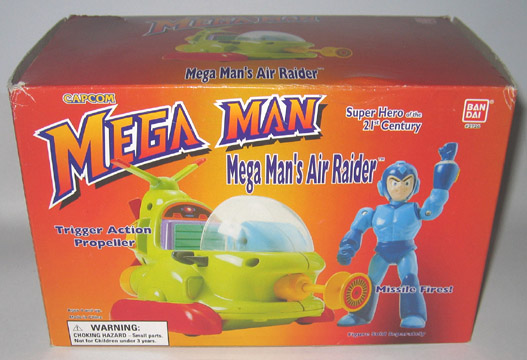 Air Raider


Back to Mega Man Toy Page


Back to Main page

____

=.......................______

______/====| |======______

___/---------\_


1997__E-Mail-Me__lrdsith@interaccess.com