----NARLIES----

Narlies are the companions of the Rocklords. Naturally, some are evil and some are good. They did make a nice appearance in the Gobots Movie, and there is even one on the cover art! Narlies are extremely furry creatures which live on the Rocklord's planet. They vary in types of species, size, attitudes and colors.
There seems to be 8 regular Narlies produced and 1 large Narlie. The first 4 listed are the more common ones, and are part of the 1st series. The other 4 and the Snarlie Narlie which came boxed are from 2nd series Narlies. The 2nd series pieces are extremely tough to come by.
Each Narlie has a wheel inside and when you push or pull the Narlie, his/her mouth opens and closes with a grand addition of a tail wag! The body with the fur attached also moves giving it a feeling and look as if it were "alive". To add to this kinky feature, was a cranking sound. It seems that each Narlie produces his own unique sound!
These are actually very nice pieces! Even in the cartoon series they seem to be everywhere. They were Tonka's creation and were never released in Japan. Though they don't transform, they still are rather cool and very well designed toys.

---



NarlieGator (Evil)
"Meaner than the meanest Rocklord, the Narliegator lives amongst the evil rock warriors. Even Magmar keeps a respectable distance from this quick tempered Narli. The Narliegator is always in the thick of things with fangs bared and deadly jaws chomping at his enemies."

Narlielizard (Evil)
"The sharply-hooked nose and razor-like claws of the Narlielizard are telltale signs of his dangerous nature. The only thing more violent than the Narlielizard is the Narliegator. Together, these two can strike terror in the hearts of both good and evil rock warriors."





Narliehog (Good)
"Like the Narliephant, the Narlihog likes being around good rock warriors and so he's usually good natured. But like all Narlies, the Narliehog can turn from nice to nasty faster than a Rock lord can change shape. That's why everyone always stays on the good side of narlies!"

Narliephant (Good)
"The Narliephant has a streak of niceness that shows through when he gets along with good rock warriors. Deep down, however, he shares the same quick-tempered fierceness so common in his species. Just rub him the wrong way and watch out!"




Narliebat (Evil)

??????????????????????


Click to see Narlie Bat MOSC

Narlierhino (Evil)

??????????????????????


Click to see Narlie Rhino MOSC

Narlielion (Evil)

??????????????????????




Narliebaboon (Evil)

??????????????????????


Click to see Narlie Baboon MOSC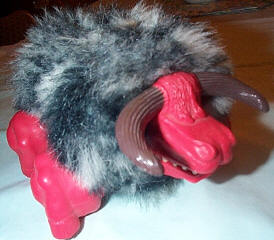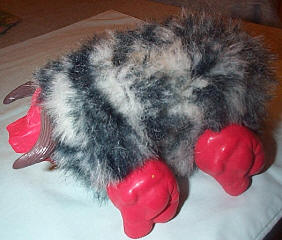 SnarlieNarlie (EVIL!)
King of Evil Narlies and the most aggressive attack animal. A large toy and Battery Operated! Extremely difficult to find this toy. Unsure if it was released in Europe (though it probably was). Rolls on his four legs /wheels. Tail and mouth open, and the wheels are off set with his hoove so he bumbps up and down slightly.

Narlie Baboon: Anonymous
Snarlie Narlie: Kristopher Olin
Snarlie Narlie Boxed: Fumihiko Akiyama
Rest of Collection : Mac & Alex Bickmore
Paragraph: Alex Bickmore
Photos: Alex Bickmore / Kristopher Olin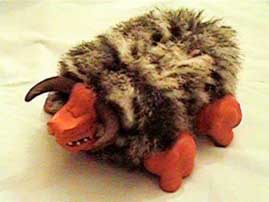 Back To Rocklords
Back To Go-Bots
Go To Jewel Lords
Back To Main Page

1997 - 2005 workings