The Vehicles for Rocklords are weird enough. Especially the Rock Pot! There were only two Vehicles made and are just about as well made as the other toys. But check out the "Unique Features" they have.
---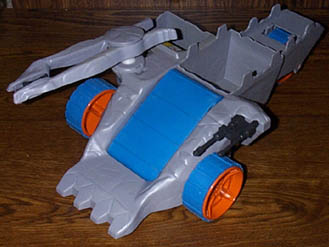 Rock Pot
The Rock Pot is one weird one. The main function is that as you roll it forward, the wheels move the conveyer belt and you can pick up the enemies, gnarlies or whatever with it! This vehcile also has a Narlie perch! I remember seeing these at Toys' r Us when I was in Canada.......in 1996!!! To bad I couldn't pick up any since I was full with luggage and other items. But I did manage to get some 80's toys before they cleaned out their old Toys R us!
Rank- Boulders Vehicle
Rock Type:-Marble: a hard textured limestone streaked with color giving boulder armor and camouflage.
Specs- _______Pincher arm extension: 6 Meters
_____________Pincher arm weight limitation: 1,000 Kilograms
_____________Velocity of tread platform: 225 RPM's
_____________Vehicle speed: 150 MPH
_____________Scoop mass weight: 15,000 metric tons
Weapons- _____Pincher arm
_____________Treadmill platform
_____________Side rock laser
"Boulder and his Rock Pot vehilce must grab and destroy evil forces and Magamr. The evil Rock Lords will have to outrun and outwit Boulder, or else forfiet Stonehead."
---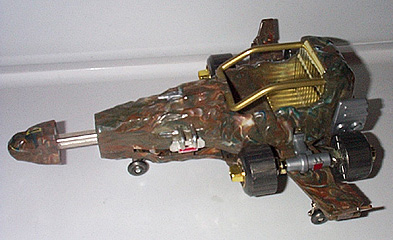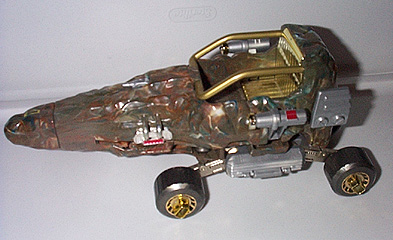 Magmar's Stone Wing! This piece has some Die-Cast parts, and can transform. The plastic colors are the same style as the Rocklord action figures are. The pieces can transform to a land vehicle and then into a jet. Extra features was a hidden gun in the back and a spring activated nose cone. Very nice piece and I'am not sure if it appeared in Rocklords series. Looks great in a display!
Rank- Magmar's Vehicle: Changes from jet fighter to land vehicle.
Rock Type:-Andesite: Consisitng of metal, and having characteristics of copper making Stone Wing strong and light weight.
Specs- _______Battering Ram: Force equal to 10,000 Metric Tons
_____________Rock laser gun: Firing range 500 meters
_____________Fold Away Rockets: Firing range of 150 meters
_____________Land Speed: 150 Mph
_____________Air Speed: 300 Mph
Weapons- _____Battering Ram
_____________Front and rear rockets
_____________Rear laser rockets
"Magmar must use Stone Wings air and land defenses to conquer the good Rock Lods and Boulder, if Stonehead is to be his. The battle continues with the best weaponry the evil Rock Lords can devise."
---
---

Collection of: Alex Bickmore
Paragraph: Alex Bickmore
Photos: Alex Bickmore


Links to other sites on the Super Toyarchive

Back To Rocklords


Back To Go-Bots


Go To Jewel Lords


Back To Main Page



1997 - 1998 workings